An ultra secure bespoke website solution!
Egress entrusted Reflect Digital as their digital marketing agency in 2012. Since then we have carried out a range of services including, branding, website design, video production, stand design, print design, creative marketing campaigns, PPC management and an award winning SEO campaign.
The Brief
After the success of the Egress SEO campaign, along with other digital marketing activity traffic to the website had grown significantly so it was key for the website to represent Egress as a global leader in the data security industry and to convert visitors into users of the software platform.
Main objectives also included:
To design and build a new website with global appeal. 

To find innovative ways to demonstrate expertise. 

To enhance call to actions. 

To deliver a user friendly, 
responsive website. 

To find the balance between appealing to both small and enterprise companies.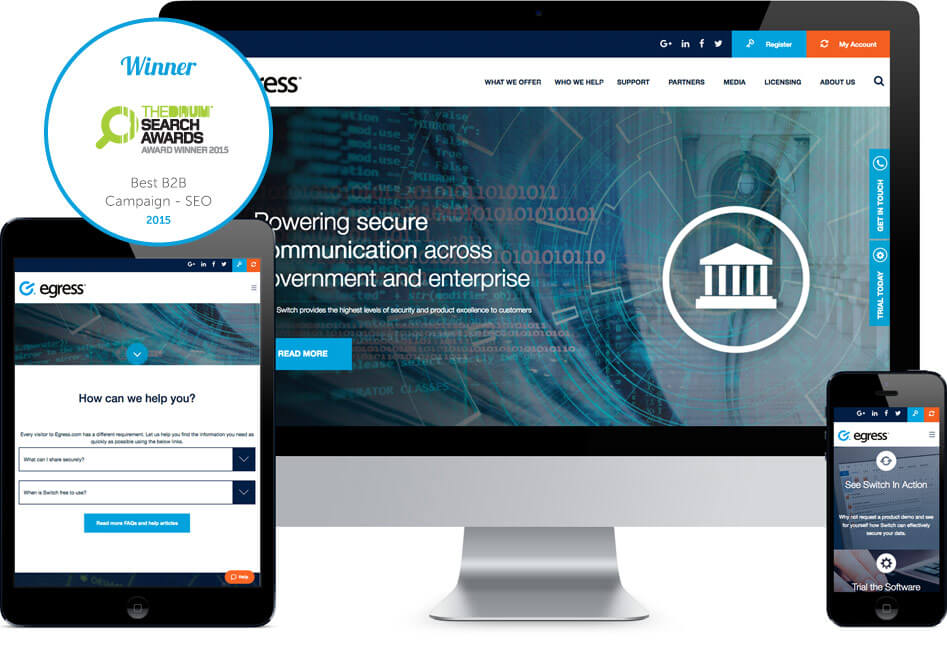 Our Solution
An ultra secure solution
The website was built on our bespoke platform 'Scoop' to provide the utmost protection against any security risks. Extensive quarterly penetration testing identifies any vulnerabilities to ensure we are serving an ultra secure website solution. The Egress website is definitely one to be proud of and ticks all the necessary boxes for a company operating in an industry with the highest expectations when it comes to security standards.
Innovative solutions
Egress' content needed to appeal to both technical and non-technical audiences, a requirement which was not fulfilled by their previous website. We needed to come up with a solution that catered for both audiences without compromising the integrity and performance of the website.
We developed a function allowing the user to toggle from basic to more in depth technical content with one click of a button. Not only was this perfect for users but also a great solution for SEO.
User-friendly solutions
This was an extremely content heavy site, and so the user journey had to be given great consideration
 to ensure everything was easily accessible. A simple, clear, navigation included a mega menu, making it easy to dive deep into the website with minimal clicks.
content functionality was also made available throughout all pages of the site. Meaning Egress could assign related content to any page to aid the user in their quest for information and assist with upselling opportunities.
Custom solutions
Microsoft Dynamics was integrated so that online enquiries went straight into their CRM. This allowed more time for their sales team to focus their efforts elsewhere and not on routine admin.
In addition, IP detection was enforced to direct US visitors to a different version of the site with content tailored accordingly.
A new and improved form builder allowed administrators complete control over all forms on the website, their fields and where they displayed.
Highlights
Ultra secure website

Innovative content solution

Optimal user experience

Award winning SEO
Testimonials
We have been delighted with the expertise that Reflect Digital have brought to our marketing in a short space of time. The team have done a fantastic job of understanding our market proposition and translating it into an effective strategy. With Reflect Digital we have found a long-term partner that we are excited to be working with and are keen to see what future results will be delivered.
Daniel Hoy - Marketing Director at Egress Software Technologies
Work with us and see how we can improve your digital reflection!
Enquire Now