Halloween is always a fun time of year – fancy dress parties, pumpkin carving, watching classic 80s horror movies and, of course, trick or treating… or for me, the memory of trick or treating!
Right now, I really can't get enough of nostalgia. I'm enjoying watching 'The Goldbergs', and shows from my childhood such as 'The Crystal Maze', 'Robot Wars' and 'The Generation Game' are making their comeback. But what I am most excited about this Halloween is the much-anticipated return of the spooky, nostalgic series 'Stranger Things'. Perfectly timed for Halloween, season 2 is live on Netflix from October 27th.
What is Stranger Things?
If you haven't seen Stranger Things season 1 and love the thought of blending 80's movies such as 'The Goonies', 'ET', 'Stand By Me' and 'Alien', then you're in for a treat! Stranger Things is set in 1983 around the small town of Hawkins, Indiana, and follows the strange story of the disappearance of a young boy and the sudden appearance of a mysterious young girl with supernatural powers. Focusing around a group of Dungeons & Dragons-loving kids, they do whatever it takes to help find their missing friend. But it's never that simple when things are turned upside down…
Stranger Things Movie Posters
As part of the marketing promotion for Stranger Things season 2, they have been recreating classic movie poster designs that have heavily influenced the show. Kudos to Netflix, they certainly know how to build suspense. I just can't get enough of these poster designs and wanted to share them with you!
(PLEASE NOTE THE FOLLOWING MAY CONTAIN SPOILERS!)
The Goonies
References: A group of adventure seeking kids, cycling around on a mission to find something lost.
Jaws
References: A drop of blood in the swimming pool. Nancy reads a shark book, referring to the Demogorgon responding to the smell of blood.
The Running Man
References: The only link I can think of is Chief Hopper is a heroic character, saving the day.
Firestarter

References: Two girls with supernatural powers, but will Eleven have the power to survive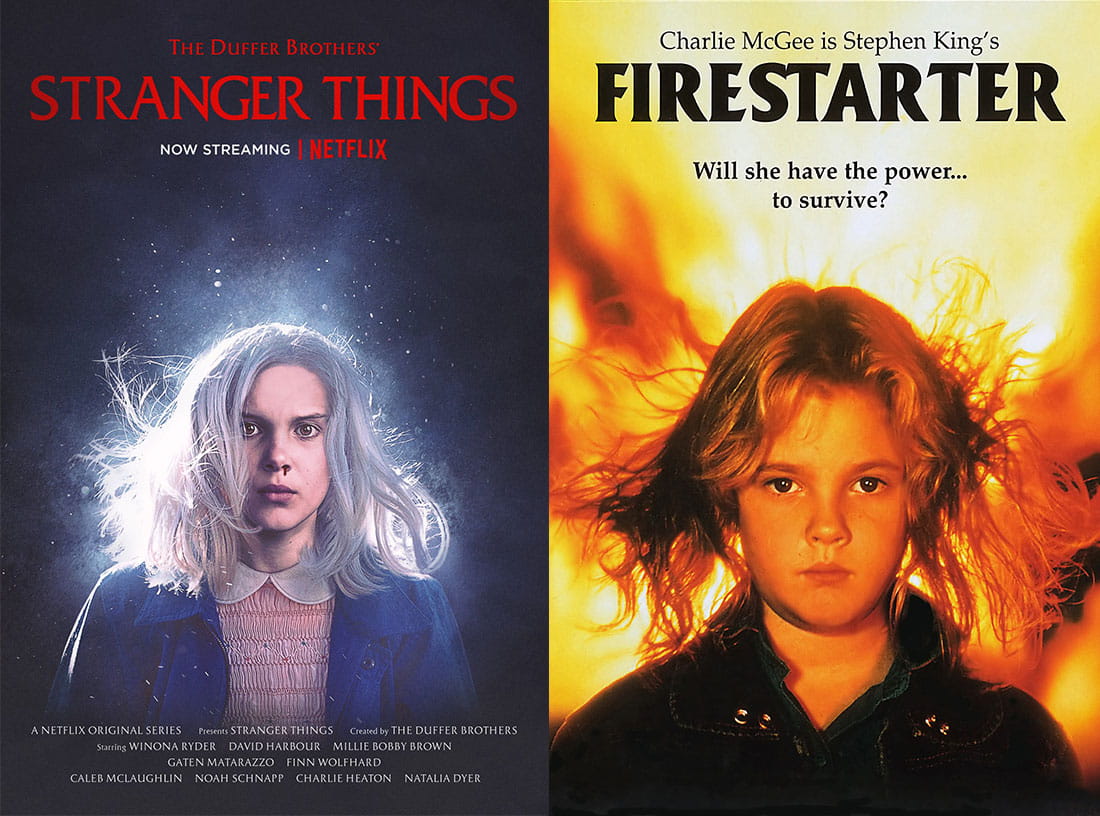 The Evil Dead

References: In episode 5, The Evil Dead poster featured in the background in Jonathan's room. Jonathan's Dad then refers to it "Take that down. It's inappropriate."
Stand By Me

References: In episode 5, Mike, Lucas, Dustin, and Eleven are walking along the train tracks also searching for someone.
Alien
References: The webbed sticky goo covering the gateway to Upside Down reflects the Alien movies. The monster in Stranger Things also has many similar characteristics.
A Nightmare on Elm Street

References: In A Nightmare on Elm Street, there is a scene where Freddy is lured into a booby-trapped house and then set on fire. Stranger Things mirrors this scene with Nancy and Jonathan.
I really love how they have echoed the original movie posters, matching their font styles and layout. They all have a consistent style and a de-saturated colour palette. You can really imagine them on the front of an old VHS case!
E.T.
These posters got me inspired; I had to create my own Stranger Things poster. The Netflix series features several references to Steven Spielberg's classic 'E.T'. such as a boys racing around on their bikes, a blossoming friendship between a boy and a strange being with mind powers etc. But my favourite scene is Mike dressing up Elle in a wig and a dress.
To celebrate season 2, I'm even hosting a Stranger Things themed launch night. Along with fairy lights, alphabet on the wall, '11' tattoos and of course waffles! I can't wait to see the opening titles of the glorious red serif typography of ITC Benguiat.
Happy Halloween and enjoy Stranger Things!